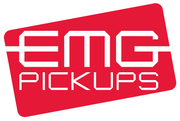 EMG are an American company that specialise in producing high output active guitar pickups.
For many years, their signature models, the 81 and 60, in addition to the 85 and 89 models, have been synonymous with the more extreme forms of heavy metal. Their pickups are characterized with high treble and midrange, and strong pick attack.
They have ben favoured by metal bands for their aggressive sound and high output, but have been criticized for having poor clean tone and and inorganic, artificial sound due to most of the output coming from the pickup's preamp, rather then the magnetic pickup itself.
List of EMG pickups
Edit
Active pickups
Edit
EMG SA - Single coil.
EMG 58 - Their version of PAF.
EMG 60 - Usually used in neck position, with EMG 81 in bridge position. Known for its clean sound.
EMG 81 - One of the most popular active pickups, first introduced in 1981. Usually found in the bridge position with a EMG 58, 60, 85, or a second 81 in neck position.
EMG 85 - First introduced in 1981. Features Alnico magnet, unlike other EMG models (ceramic magnet). Usually used in neck position, with EMG 81 in bridge position, but some users have found it works very well in the bridge also, sometimes with better results than the 81.
EMG 89 - Can be coil-tapped to function as a single coil.
EMG 707 - Seven-string version of the EMG 85.
EMG 808 - Eight-string version of the EMG 85.
EMG HZ pickups
Edit
EMG H4 - Ceramic magnet. Passive bridge humbucking pickup.
EMG H4A - Alnico 5. Passive neck humbucking pickup.
Signature models
Edit
James Hetfield - Based on EMG 60/81 set.
Zakk Wylde - A EMG 85/81 set.
Alexi Laiho - Passive pickup with gain-booster circuit. Based on Jackson J-50BC and JE-1000.