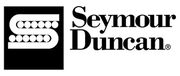 Seymour Duncan are an American producer of active and passive guitar pickups. Well known models include the 59, JB, Full Shred and Blackout series. They are the chief rivals of Pickup Producer DiMarzio and EMG.
Passive Humbuckers
Edit
SH-1 '59 - PAF model
SH-2 Jazz - low output PAF model
SH-3 StagMag - staggered pole-pieces, designed for SSH Strats, creates nice single-coil tone when tapped
SH-4 JB - originally mounted on Jeff Beck's Telecaster, high output rewind PAF
SH-5 Custom - high output, ceramic magnet
SH-6 Duncan Distortion - high output, ceramic magnet
SH-7 Seymourizer II - discontinued and reissued as SH-6 Neck with exact same spec, to avoid confusion with SH7 series
SH7-X - series for 7-string guitars
SH-8 Invader - high output ceramic magnet
SH-9 Silver Bird - discontinued, DiMarzio X2N type, clean-sounding, doesn't create distortion almost at all
SH-10 Full Shred - double adjustable pole-pieces, Vivian Campbell
SH-11 Custom Custom - same as SH-5 but with Alnico II magnet
SH-12 Screaming Demon - George Lynch
SH-13 Dimebucker - Dimebag Darrell, Bill Lawrence L-500XL type
SH-14 Custom 5 - same as SH-5 but with Alnico V magnet
SH-15 Alternative 8 - Alnico 8
APH-1 AlnicoII Pro - Slash
PA-XX Parallel Axis - unique pole-piece design to obtain enchanced sustain, Bruce Saraceno
Antiquity - Aged PAF replica
Antiquity II - Aged mini-humbucker replica
Trembuckers
Edit
Humbuckers and Trembuckers are very similar to each other, and most humbucker models also come in Trembucker versions. The Trembucker-spaced JB, for example, is a TB-4 and the humbucker-spaced version in an SH-4. The only difference is the wider spacing of the pole pieces on the Trembucker versions. Trembuckers are designed for wider string most commonly associated with Floyd Rose or vintage Tremolos with a string spacing of 2.070" or 52.6mm, measured center of high string to center of low string over the bridge pickup. Humbuckers are designed for bridges with traditional Gibson humbucker string spacing of 1.930" or 49mm.
Blackouts
Edit
Seymour Duncan Blackouts are a line of active pickups. They are known for their harmonically rich, deep sound and high output. In addition to the standard AHB-1 model, there are the more aggressive, higher output AHB-2 Blackout "Metals," which feature increased treble and mid range, and the AHB-3 Mick Thompson EMTY pickups, which have increased bass and treble, as well as higher output, although not as high as the Metals.